About Realistic Living
Realistic Living is a 501-C-3 nonprofit organization incorporated in the state of Texas, USA in 1984. Joyce and Gene Marshall are its founders and staff.
The Founders of Realistic Living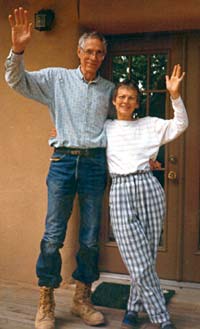 Joyce and Gene Marshall were already accomplished teachers of religion and ethics when they married in Chicago in 1977. They lived in Los Angeles four years doing intensive psychological training and then founded Realistic Living in Dallas in 1984.
Since that time they have written numerous books, Realistic Living Journals, Newsletters, and resourses for small group nurture. The Marshalls are also social activists: organizers of the bioregional movement; playwright/
directors of a local community method called Ecotheater; trainers in local community leadership methods; and have written essays on feminism, ecology, economics, education, interreligious dialogue, and other causes.
Gene brings to this team an education in mathematics, physics, and theology. Joyce brings her teaching experience and university training in music and education with a deep passion for literature, feminine values, interreligious dialogue, and meditation. Both have done advanced studies in Christian theology, non-Christian religions, history, the philosophy of social change, psychology, male/female relations, ecology, and economics. They have extensively researched and developed facility with leadership methods for small group religious nurture. They are now developing a focus on training in leadership skills for local cells of Christian resurgence. The Marshalls live in the woods on the Red River Flats of North Texas in a straw-bale house which they designed and participated in building. This home is both their residence and a meeting place for the activities of Realistic Living. See photo gallery of the straw-bale house.
---
The Boards of Realistic Living
Our local board is responsible for our non-profit 501-C3 corporation and is also an active working board. The members are:
Paula Brennecke -- Bonham, Texas
Marsha Buck -- Juneau, Alaska
Richard Corl -- Spring, Texas
Nate Custer -- Houston, Texas
Ken Fisher -- Ottawa, Ontario, Canada
John Howell -- Bonham, Texas
Jeanne Marie Manning -- Santa Rosa, California
Houston Markley -- Portland, Oregon
Gene Marshall -- Bonham, Texas
Joyce Marshall -- Bonham, Texas
Alan Richard -- Bonham, Texas
Edwin Waters ­ -- Clayton, Illinois

Our International Advisory Board includes the following members:
Sara MacFarlane Allen -- Gilford, New Hampshire
Willie Anderson -- Juneau, Alaska
Robert & Deborah Armstrong -- Lexington, Mass.
Ben Ball -- Sugar Land, Texas
Frank Bremner -- Somerton Park, S.A., Australia
Jon & Annetta Ezelle -- Seattle, Washington
Ellen Gentry ­ -- Hillsboro, Oregon
Irma Hudson ­ -- Kansas City, Missouri
Bob Kochtitzky -- Okeechobee, Florida
Ken Kreutziger ­ -- Lexington, Massachusetts
Joshua Lawrence -- Denver, Colorado
David Marshall -- Moraga, California
Kathleen Marshall -- Veneta, Oregon
Teresa Marshall -- Eureka, California
Wayne Marshall -- Santa Barbara, California
Michael May­ Bloomington, Indiana
Marilyn McCord -- Bayfield, Colorado
Julie Miesen -- Highgate Hill, Queensland, Australia
Rita Newton -- Oklahoma City, Oklahoma
Marilyn O¹Boyle -- Albuquerque, New Mexico
Mary Klepser Priem -- Portland, Oregon
Gordon & Patsy Roe -- Lewisville, Texas
Don & Lee Sax -- Banning, California
Harold Slater -- Midland, Michigan
Finley Schaef ­ -- Saugerties, New York
Diana Stokes -- Oklahoma City, Oklahoma
Jim Stovall -- Oklahoma City, Oklahoma
John Stowell ­ -- West Easton, Pennsylvania
Jaime Vergara -- Saipan
John Webster -- Rogers, Arkansas
Terry Weygandt -- Oklahoma City, Oklahoma

---
The Mission of Realistic Living
can be described under these three headings:
1. REALISTIC LIVING is a Research Institute probing the leading edges of religious, psychological, and sociological awareness.
This research takes many forms: reading key books and journals; attending various workshops, retreats, films, performances, and conferences; holding meetings; and managing a research network of collegial explorers of religious practice and ethical living.
Our research is published twice a year in a 16-page journal and twice a year in a two-page newsletter. These publications contain religious and ethical essays, movie reviews, book reviews, and practical contexts and suggestions for fresh forms of Christian religious practice.
See JOURNALS for more information on these publications.
2. REALISTIC LIVING is a Training Office scheduling courses and workshops on visionary social ethics and relevant, transformative religion.
We construct one-day consults on a number of subjects that fall within our general focus.
We have two core courses which we offer on a weekend—Friday night to Sunday afternoon:
1. Christian Resurgence for the Twenty-first Century (CR-21) is an introduction to the Christian theological breakthroughs that reached great clarity in the twentieth century. This course also probes current edges in New Testament understanding the ethical and communal life of Christianity for the twenty-first century.

2. Earth Care for the Twenty-first Century (EC-21) is an introduction to the building of social vision, strategies, and tactics for reversing the direction of ecological devastation and social injustice. This course also deals with core aspects of the practical implementation of group organization, care, and action.
See COURSES for more information on these programs and their current scheduling.
3. REALISTIC LIVING PRESS is a Publishing House making available easily understandable and academically sound essays, books, and tapes designed especially for small group nurture.
In addition to the publication of our research in our regular schedule of journals and newsletters, we have organized a sister organization, Realistic Living Press, which publishes perfect-bound books of 120 to 320 pages in length and tape-bound study books of 30 to 60 pages in length. These books are all available in hard copy, and several of them are available as e-matter from this site.
See BOOKS for more information on these resources and how to acquire them.